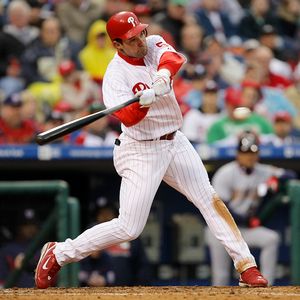 Continuing are look at the big bat free agents on the market with
leftfielder
Pat
Burrell
.
The first pick overall in 1998 by the Philadelphia Phillies as a first baseman, eventually made a permanent move to leftfield after his rookie year. An average leftfielder, he does get a lot of assists, but has poor range and has made more errors than an average leftfielder should. He has also only professionally started in leftfield, which is currently occupied by Carl Crawford. Nothing exceptional hitting for contact, Burrell has a career .257 batting average and a .304 BABIP. Burrell does put out a consistent amount of doubles and homers, around 30 for each category a year. Although this may be because he hits many flyballs, which gives him a lower batting average. His plate discipline is also improving, increasing the amount of walks and decreasing the amount of strikeouts. Burrell has hit better against lefties than righties, which will improve the Rays lineup against lefties. The Rays may be confident to put him in rightfield on a consistent basis, although he will be a downgrade from anybody else on the roster. A another positive is that he is still young and improving his ability to walk and hit the long ball.
The Rays may not be able to afford him, in his last two seasons, Burrell made $13.25 million and $14.25 million. I think that is too high for a player who hits too many flyballs and doesn't get on base as much by base hits. But looking at the current market and economy, Burrell will get around the $10 million mark a year, maybe on a 2-3 year deal.
His production should stay consistent to years past and hit a line around .250/.380/.500. Burrell should get about the same amount of walks as the last two seasons, which will be above 100. Expect him to hit 30 HRs and 30 doubles. Burrell may be the best bet for a team because he has no risk due to age or injury. He is the most consistent free agent bat that the Rays are interested in.
Up next, Adam Dunn.

Information gathered from
FanGraphs
,
Baseball-Reference
.